Duration
tasman Glacier Ice Trek
If you want more adventure than a 2-hour helihike - plus the benefits of a private guiding experience - choose Alpine Guides' Tasman Ice Trek.
The Trek combines the thrill of  helicopter rides, plus a true exploratory journey on the ice of the mighty Tasman Glacier.
You will fly to a high landing at approx. 1,400 metres above sea level. With your personal glacier guide, you will traverse the incredible glacial landscape, while moving through the regular Tasman Glacier Heli Hike terrain and on, into more "adventurous" zones.
Explore The Ice
Hiking on the Ice Trek hike covers up to 5 kilometres distance, with many diversions. Explore fascinating ice features. Squeeze through winding canyons. Peer into moulins and caves - and the many surprises the ice delivers! You are on a private helihike, so there is no pressure to go faster (or slower) by people you don't know. The trip is 100% tailored to your needs, as to how challenging or relaxed you want it to be. The glacier changes constantly through the season, so no two trips are the same.
Seasonal Variation
The Ice Trek can run at any time of year. Features on the ice of the Tasman Glacier changes constantly, across the seasons and even day to day. No two trips will be the same.
During winter (June-September) we fly in by 10:30 am and normally exit by 3 pm, to make use of the warmest daylight hours.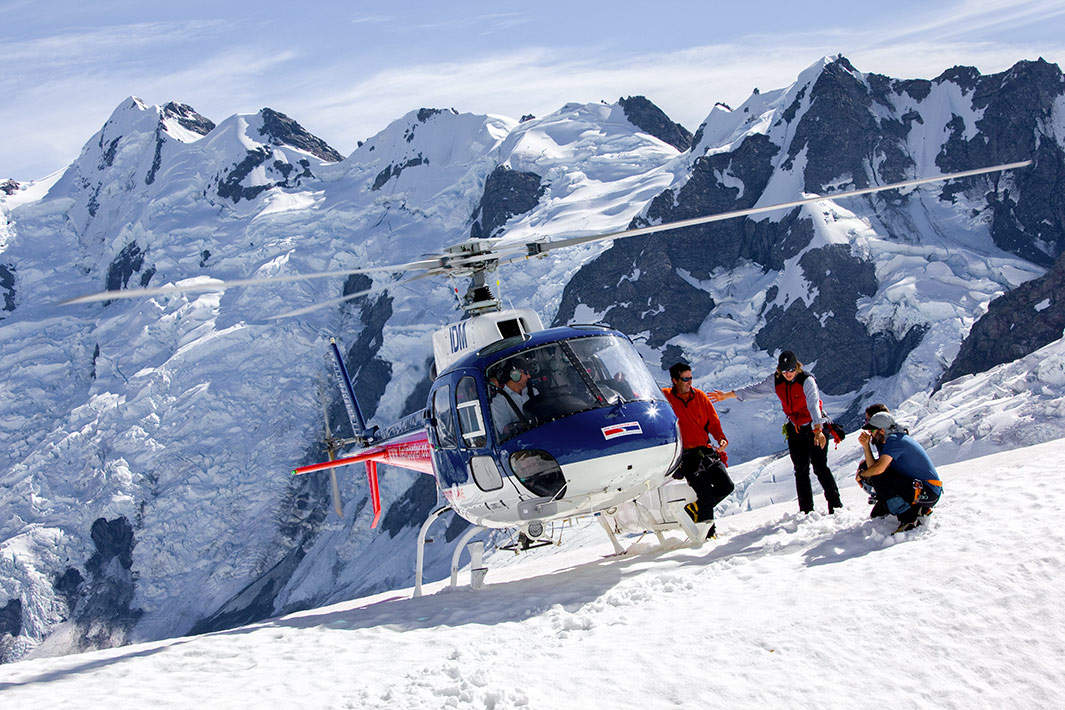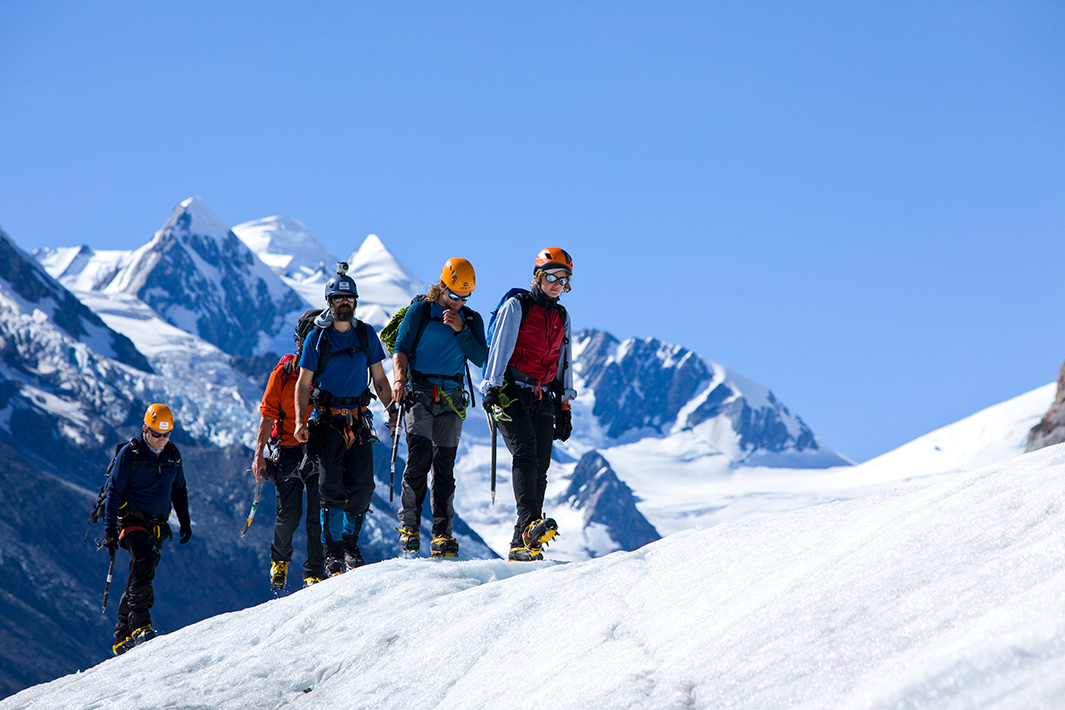 Experience Required
The Ice Trek is for moderately fit people with a taste for exploration. You must be confident walking on uneven terrain continuously for several hours carrying a small backpack. It is a great option for adventurous families.
Your own private group and qualified mountain guide

Two 15 minute scenic helicopter flights in the Mount Cook region

Incredible mountain, glacier and lake views

Lunch on the ice

Up to 6 hours on the ice (can be reduced to suit your schedule/fitness)

Ice climbing option available

All technical snow and ice equipment
Optional - Include Ice Climbing On Your Trek
If you have never climbed ice, you will have a blast. Your guide will introduce you to the sport with some easy pitches - before you stretch out to greater challenges… if you are game.
The glacial ice forms massive pressure ridges, which offer fantastic climbing opportunities, right through the warmer months. Late-summer conditions allow for more experienced climbers to work on technique.
If you want a more 'advanced' day, please talk to us prior to booking. Our guides can put together a challenging day with instruction included if that is what you are after. All technical equipment is provided.
+ Booking Terms and Conditions
Weather Cancellations
Glacier activities are weather dependent activities. We reserve the right to cancel the trip if weather is not safe/suitable for the helicopter or walking. Customers may transfer to another date, if guide, weather, and itineraries allow.
Alpine Guides reserves the right to change the duration of the trip around changing weather conditions.
If a trip is shortened due to incoming weather, there is no refund due.
---
Cancellations
If we cannot operate due to weather a refund of 100% is due for any pre-paid clients who are unable to re-book for a later date.
If paying by credit card the refund will be credited to the same card you paid with - please have this card ready. Charges will appear in the name of 'Alpine Guides Aoraki' on the credit cardholder's statement.
---
General Cancellations
Cancellations 8 or more days in advance of the trip start date will incur no charge. A full refund can be made.
Cancellations 7 days or less from the trip start date will incur a 50% cancellation fee.
No refund will be given for cancellations within 48 hours of the start time if the weather will allow us to operate.
There will be a 100% charge for pre-paid customers who do not show and the weather is operable.
Cancellations should be made by phone (+64 3 435 1834), email, or in person.
---
Safety and Hazards
It is important that you understand the hazards when participating in these activities. If you have any concerns or questions, please contact us.
Guided hiking, climbing, snowshoeing and travel on glaciers is classified an 'adventure activity'. There is a degree of risk of personal injury. While all precautions are taken to minimise risk we cannot absolutely guarantee your safety.
We operate in natural mountain features that present certain physical hazards. These hazards include, but are not limited to:
Uneven and icy terrain and slopes
Natural, uncontrolled terrain features
Potential exposure to cold
Potential exposure to UV light
All guests receive a full briefing on hazards and helicopter safety prior to boarding
---
Health & Fitness Most healthy people with 'average' and higher level fitness should enjoy these activities.
Health and fitness may limit your ability to take part in an activity. We request knowledge of pre-existing medical conditions, including medication, when completing your booking.
Lack of physical fitness or medical conditions may affect your ability to safely take part in, or complete a trip.
We reserve the right to shorten or cancel trips for guests whose fitness or ability is not appropriate. If you are unable to complete the activity, you will not be entitled to a refund.
---
Children
Children need to be at least 12 years old and confident on uneven terrain. We reserve the right to change these requirements due to terrain and weather conditions. There is no 'child' rate as an adult aircraft seat is occupied and the guiding responsibilities are unchanged.
---
Booking Restrictions
You must be 18 years or older to make a booking. If you are under 18 years old, a parent or guardian traveling with you must complete your registration form prior to the trip.